High School Team Camp (Player Registration)

July 08, 2019 - July 09, 2019
July 8-9th, 2019 High School Team Camp Information 
Details:
Minimum campers per school/team: 13 players
Freshman, JV, Varsity Welcome
Does your team have less than 12 players? See "Open Team" description below.
Goalkeeper Training Offered: Yes
Team Bonding Opportunities Offered: Yes
Leadership Training Offered: Yes
Film Review Offered: Yes
Coaches Training: Yes
Registration
To register: High School Coaches must register their team before any individual player can do so. Coaches, use the HIGH SCHOOL TEAM CAMP (COACH REGISTRATION) to get your team signed up. After you sign up your team, you will receive a confirmation email with instructions for your individual players.
After you register: Once you have successfully completed the online registration process, you will receive a confirmation to the email address associated with your account. If you believe your registration was successful, but you have not received a confirmation email, please check your junk or spam filter. If you cannot find the confirmation email, contact patino@gonzaga.edu. An informative email with additional camp information will be sent out 5-7 days prior to camp.
Looking to register as an individual or small group (less than 12)? Select "OPEN team" under Residential Player or Commuter player. Groups of any size are welcome!
Check-In/Check-Out
Check-in will take place at TBD Dorm (announced soon) from 12:00pm – 2:00pm on the first day of camp. Check-out is from 12:00-2:00 pm on the last day of camp. If you need to arrange difference check-in or check-out times, please email us at patino@gonzaga.edu. All important information regarding dorms, parking, and schedules will be distributed 5-7 days prior to camp.
High School Coaches/Chaperone
Each team is responsible for bringing at least one chaperone per team. One High school coach/chaperone will stay in the dorms & receive all meals free of charge, 1 for every 10 players.
*Want specific topics covered? Email patino@gonzaga.edu at least two weeks prior to camp with your requests. We encourage you to take notes & be as interactive as possible throughout the course of camp.
Camp Locations
ALL TRAINING SESSIONS: Mulligan Field (North of the McCarthey Center on Cincinnati St.)
DORMS: TBD (announced soon)
DINING HALL: COG in the John J. Hemmingson Center (702 E Desmet Ave, Spokane, WA 99258)
IN CASE OF INCLEMENT WEATHER: Charlotte Y. Martin Center: (Lower Kennedy Dr., Spokane, WA 99258)
Food
Food will be provided either through campus dining or through an outside vendor such as Chipotle Mexican Grill or Caruso's. Pizza orders will be available at night after the last session. Be sure to pack extra snacks and drinks as needed.
Accommodations
Teams will room next to each other in the dorms to promote team bonding. High school coaches are responsible for providing roommate assignments two weeks prior to camp.
What to Bring
·      Soccer clothes for 8-9 training sessions
·      Extra clothing for relaxing in the dorms
·      Cleats and shin guards
·      Goalkeeper gloves (if applicable)
·      Sun screen and bug spray
·      Soccer ball (Write your name on it. You can also purchase one at camp.)
·      Water bottle
·      Money for pizza & the Zag Shop
·      Sandals and gym shoes
·      Extra snacks and drinks
*Water and Gatorade will be provided throughout camp. Linens will NOT be included. You will need to bring: pillow, pillowcase, blanket, bed linens, washcloth, and towel.
Commuter Teams
The commuter fee for our High School Team camp includes all camp sessions, group activities, lunch and dinner. All commuter teams must attend registration on the first day of camp. Commuters should plan to arrive at Mulligan Field at least 15 minutes before your training group begins.
Open Teams
Individuals and small groups can sign up under "OPEN team" for both residential and commuter options. If you have less than 12 players in your group, please select "Residential Player" or "Commuter Player" and then click "OPEN team" for your registration. Members of Open Teams will be placed with other small training groups (depending on size) to create a competitive and productive training environment.
Questions
If you have additional questions, please contact patino@gonzaga.edu 
Tentative Schedule
Day 1 (Tentative Schedule)
TIME 
 ACTIVITY
12:00pm - 2:00pm 
Check In at Dorm (specific check-in times will be provided)
2:00pm - 4:00pm 
Training
4:30pm - 6:00pm
Dinner & Leadership Meeting
6:00pm - 7:00pm 
Position Specific Functional Training
7:00pm - 9:00pm
Bulldog Cup 9v9 Games
9:00pm
Commuter Pick-up
11:00pm
Lights out
Day 2/3 (Tentative Schedule)
7:30am
Breakfast
9:00am - 11:00am
Training Session
11:00am - 12:30pm
Lunch & Leadership Meeting
12:30pm - 2:00pm
Training Session
5:00pm
Dinner
7:00pm - 10:00pm
11v11 Games, Showcase Game
11:00pm
Lights out
Day 4 (Tentative Schedule)
7:30am
Breakfast
9:00am - 11:30am
11v11 Tournament
11:30am- 12:00pm
Camp Wrap-Up
12:00pm - 2:00pm
Check-out of dorm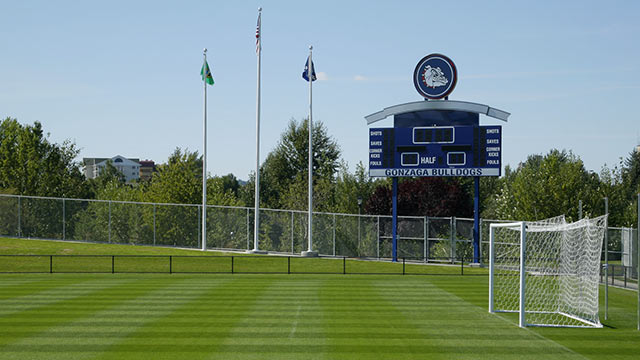 Gonzaga University
High School Team Camp (Player Registration)
Gender: Female | Ages: 12 - 18
July 08, 2019 - July 09, 2019 | Spokane, Washington
Mon, July 08, 2019 - Tue, July 09, 2019
801 N Cincinnati Street
Spokane
,
Washington
99258